1. To challenge yourself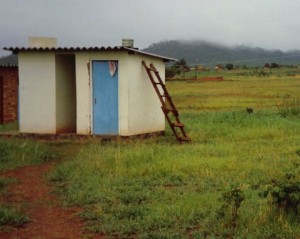 My toilet and bathroom when I worked in rural Zimbabwe in 1992. I shared it with seven other teachers and their families. No running water, just a hole in the ground loo and no lock on the door either ~ the towel hanging on the door indicates the bathroom is occupied.
2. To enjoy new experiences
Looks as if my husband, Rich, had fun hanging out with this monkey – he's the one on the right. This photo was taken in 2006 at a monkey sanctuary in northern Thailand. You can't experience that in England can you?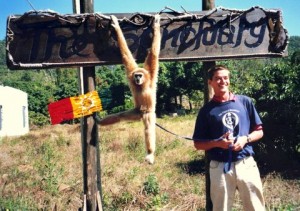 3. To find yourself
Following in the footsteps of the Beatles, many people travel to India to find themselves but this traveler looks as if she lost herself. Do you laugh when travelers dress like a local? I do. Here a young hippy chick in India dons the local garb. Okay, I confess, it's me in 1996. I still claim that I'm the only person to ever put on weight while traveling in India, but seeing this photo it's hard to believe. I look even slimmer than the palm tree I'm propping up.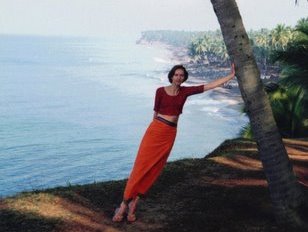 4. To learn a new language
No sooner had our daughter started speaking, aged 18 months, than we whisked her off to Vanuatu to learn bislama with the natives. Sometimes called pidgin english you can probably guess what 'allo', 'tata' and 'tank u tumas' mean. I love speaking in foreign tongues, it gives you a whole new outlook on life.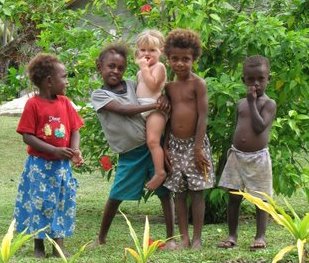 5. To experience new cultures
This man earned a tidy sum by loitering outside our son's school in Costa Rica and selling fresh coconuts and deep fried plantains chips with lime juice and chili. They called him Senor Pipa – Mr. Young Coconut. I'm pretty sure he'd be moved on quickly if he set up camp outside the kid's school here in Australia…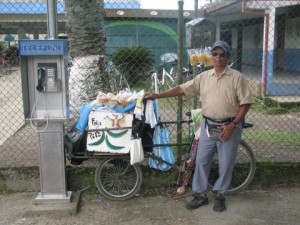 6. To party or just to have fun
Travel is fun and lots of people travel with the sole purpose of enjoyment, wild partying or just because the funniest things happen when you're traveling. Silly things like this sign about a bizarrely-named traditional story from Paama Island in Vanuatu, which especially amused our 4 year old son, Max.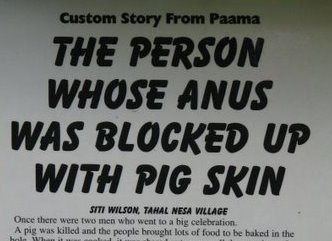 7. To see new things
I've seen the Taj Mahal, climbed the Eiffel Tower and the Twin Towers, and spied sloths, tapirs, lions and elephants in the wild, but I can never go within a 50km radius of a waterfall without checking it out. I love the noise, the spray, the constant rush of sparkling water. I was raised in a watermill and we had two waterfalls in our garden so maybe that's where my love of them comes from. I recommend New Zealand and Costa Rica for waterfall lovers. Here I am with the kids at a fairly decent cascade in Costa Rica. I don't think I could ever tire or visiting new waterfalls!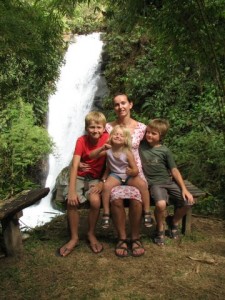 8. To eat new food
I like to try new stuff but I draw the line at some things like the crispy fried giant centipedes offered as bar snacks in Zimbabwe. My husband is more adventurous and enjoyed a breakfast of roasted squirrel with a side order of toasted maggots for breakfast during a trek in Thailand. I went hungry that day. I have eaten kangaroo though. It's quite popular here in Australia, but even more widely eaten in Belgium of all places.